Biography
I believe that science and technology in this industrial world often demonstrates an increased usage of various chemical and biological compounds that possibly play an unexpected role in causing various health hazards. These compounds that enter into the human body through various routes are unintended precursors for many enzymes in human physiology which transform them to various toxic intermediates. The hence generated metabolites interfere with cellular processes and eventually could lead to toxic mechanisms including carcinogenesis.
My master's thesis research on mutagenicity of tryptophan metabolites in presence of metal cofactors has developed a strong urge in me to work towards an advanced degree in toxicology.  In my undergraduate and graduate training I gained hands-on experience in basic molecular lab techniques for cloning and expression of genes and in specific toxicology methods such as the Ames test. 
I strongly believe that the intense training in the University of Iowa Interdisciplinary Human Toxicology Program will mold me into a proficient toxicologist and allow me to contribute to human health research.
Current Research: My research interests are primarily focused on the metabolism of xenobiotic compounds/drugs, and their physiological effects on human health.
Thesis Title: PCB126-induced metabolic disruption: effects on liver metabolism and adipocyte development
Advisor: Larry Robertson, Ph.D.
Program: Ph.D.
Current Position: Toxicologist
Current Employer/Institution: Charles River Laboratories
Publications: Gadupudi, GS, Klaren WD, Olivier AK, Klingelhutz AJ, Robertson LW.  PCB126-induced disruption in gluconeogenesis and fatty acid oxidation precedes fatty liver in male rats. Toxicological Science (2015), In Press. PMID: 26396156, PMCID:  PMC4731404.
Gadupudi, Gopi, Francoise A. Gourronc, Gabriele Ludewig, Larry W. Robertson and Aloysius J. Klingelhutz. PCB126 Inhibits Adipogenesis of Human Preadipocytes. Toxicology in Vitro 29, 132-41 (2015), PMID: 25304490, PMCID: PMC4250299.
Lai, I.K., Dhakal, K., Gadupudi, G.S., Li, M., Ludewig, G., Robertson, L.W., Olivier, A.K. (2012) N-acetylcysteine (NAC) diminishes the severity of PCB 126-induced fatty liver in male rodents. Toxicology, 302(1) 25-33. PMID: 22824115, PMCID: PMC3438370.
William Klaren, Gopi Gadupudi, Brian Wels, Donald Simmons, Alicia Olivier, and Larry W. Robertson. Progression of micronutrient alteration and hepatotoxicity following acute PCB126 exposure. Toxicology, 2015, 3381-7. PMID: 26419179, PMCID:PMC4658301.
Gadupudi GS, Klingelhutz AJ, Robertson LW. Diminished phosphorylation of CREB is a key event in the dysregulation of gluconeogenesis and glycogenolysis in PCB126 hepatotoxicity. Chem Res Toxicol. 2016 Aug 10. [Epub ahead of print], PMID: 27509375.
Awards and Honors: 2015 Central States Society of Toxicology Conference Oral Presentations Winner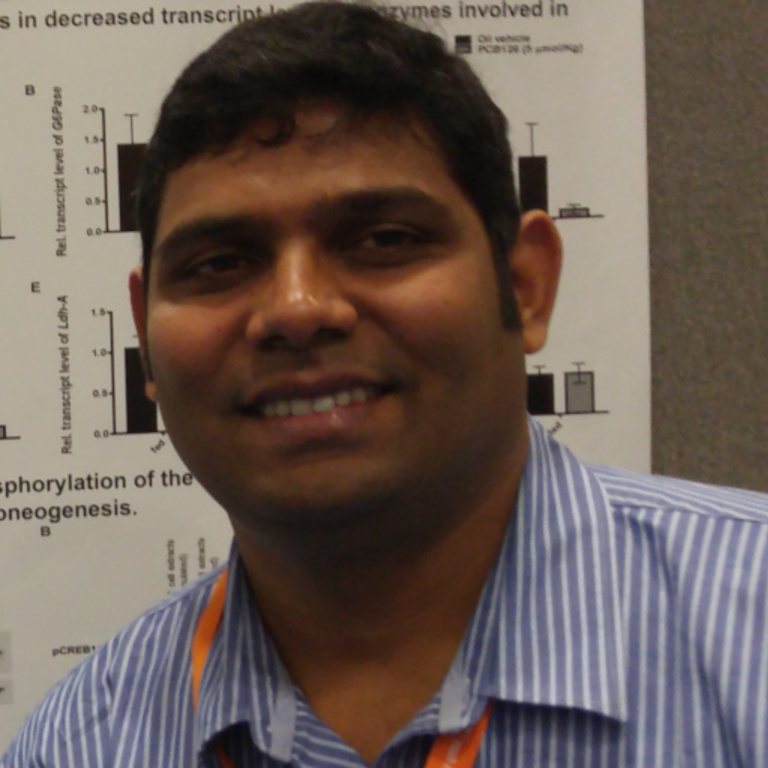 BS, Biotechnology, Acharya Nagarjuna University, India, 2006, MS, Biological Sciences, University of Memphis, 2011