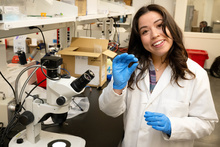 Human Toxicology Program student Valeria Cota is a recipient of a three-year National Institutes of Health (NIH) Kirschstein National Research Service Award Pre-Doctoral F31 Fellowship. These are very prestigious and very difficult to get.
Valeria is completing her fourth year as a graduate student in Associate Professor Nicole Brogden's lab, which focuses on the use of microneedles to improve drug delivery through the skin. Microneedles consist of small projections that form tiny pores which bypass the skin and allow a topical product to enter the bloodstream.
Valeria is a first-generation college student from a large family, most of whom live in either Iowa or Mexico. She is from Sioux City, Iowa and went to undergraduate college at Buena Vista. She's a member of the Human Toxicology Student Advisory Committee, is membership officer for the Graduate Student Senate, serves as the Biomedical and Medical Sciences Graduate Student Council representative, and is the graduate student representative for the Society of Toxicology's Dermal Toxicology Specialty Section.
For more information, please view the full article.
Congratulations Valeria!
(Picture courtesy of the College of Pharmacy)